If you'd like to share some kind words and smiles, please leave us a Google review! We'd love to hear about your experience!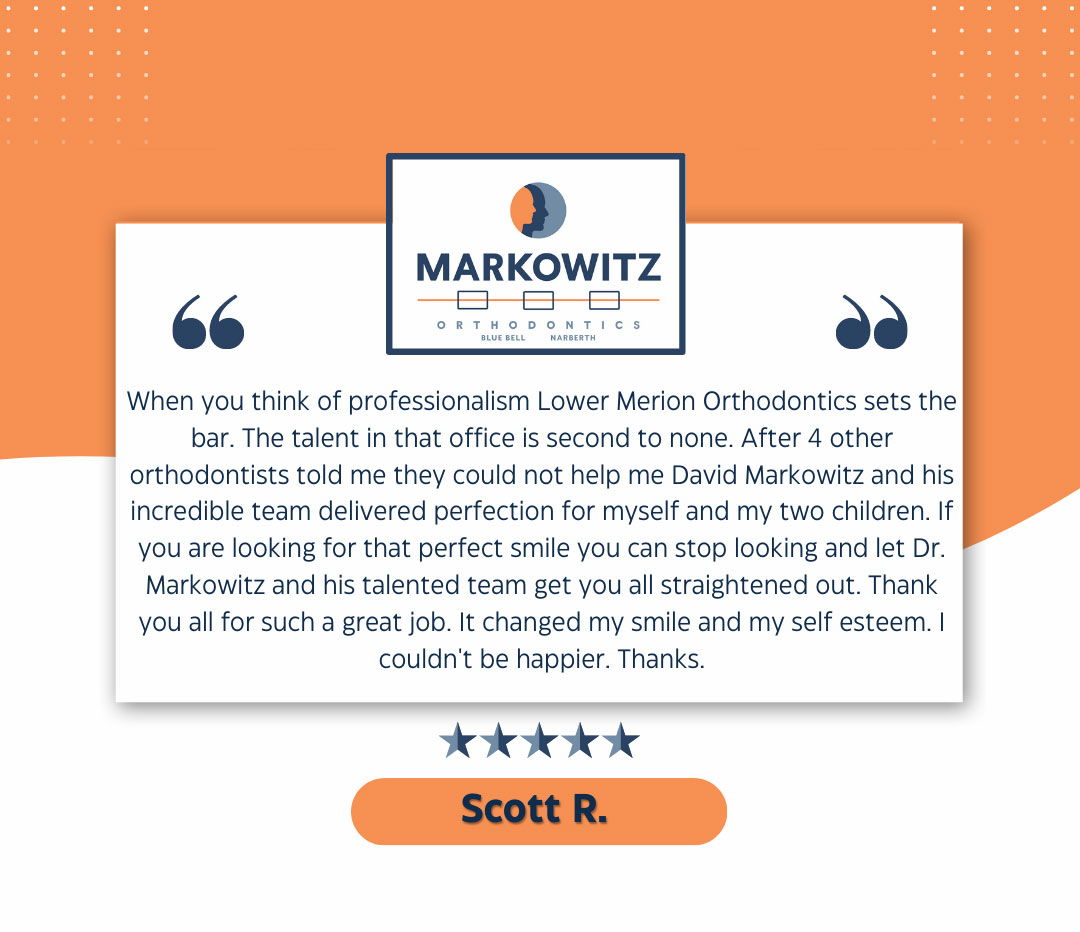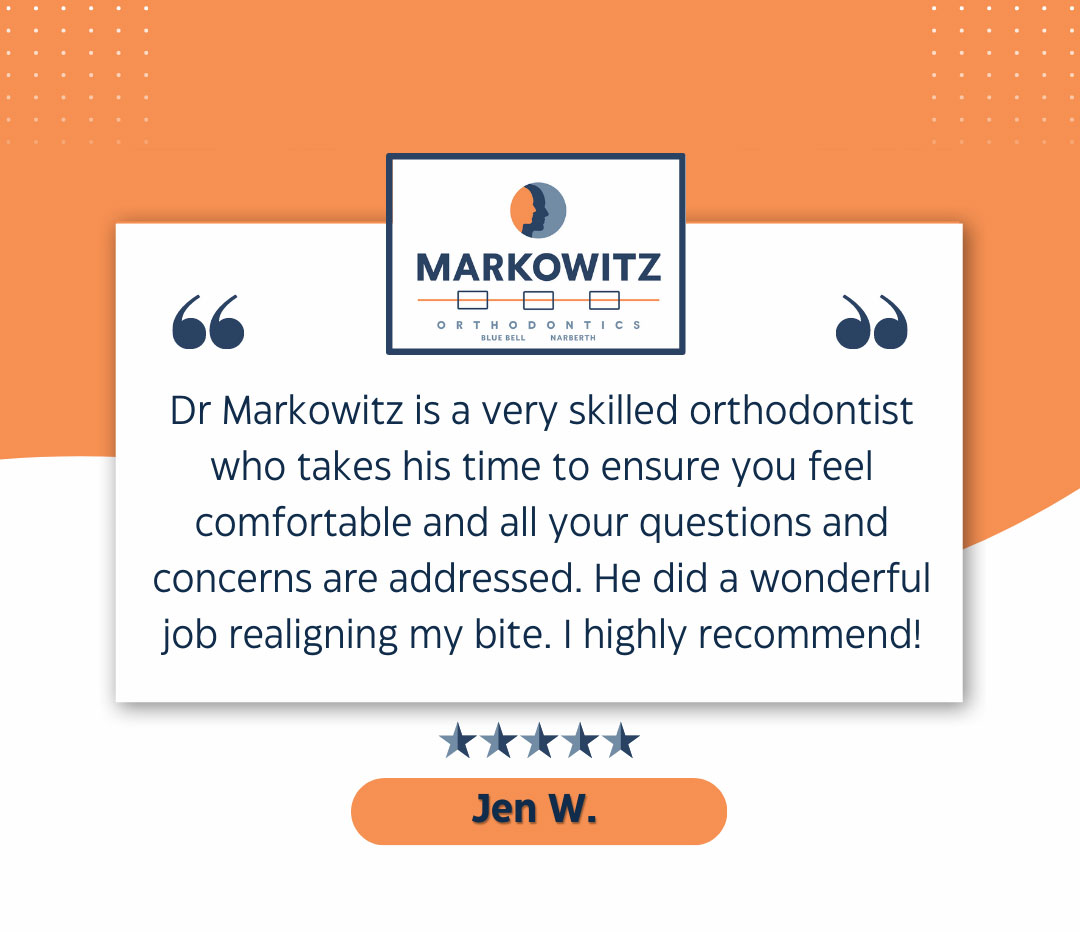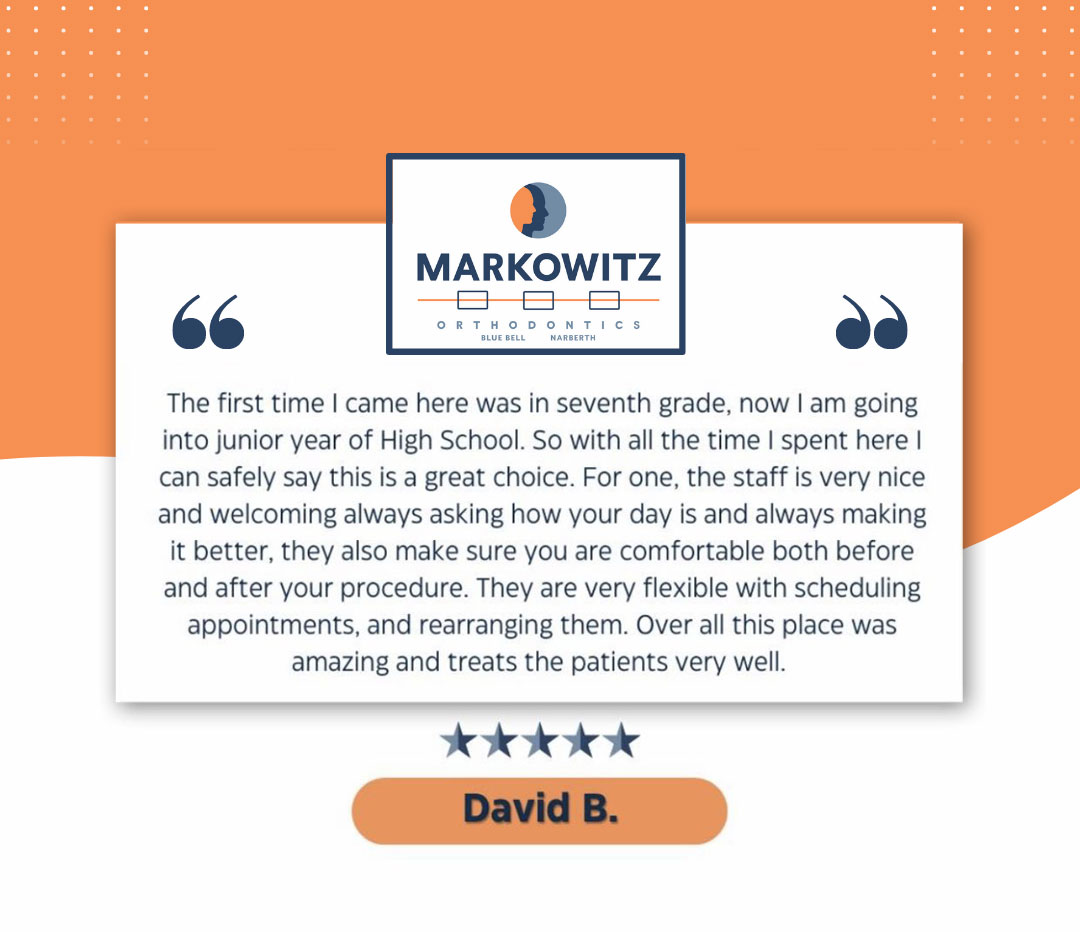 ---
"Dr. Markowitz and his team are amazing. They have been accommodating and flexible. Without going into a long story, I needed to have a front implant placed. Markowitz was able to make the room needed for my implant well everyone else suggested other methods. Great guy and great place." - Alex V.
---
"The service that they provide was exceptional very good at there job and what they do, I never felt uncomfortable while I was there and always made sure that I was safe and felt comfortable while I was being worked on." - Jadel O.
---
"Every single person I met or spoke to at this office was incredibly friendly, kind, and patient. The office is nice and clean and everyone works efficiently. I broke my retainer at 12:30 eating lunch, at 3:00pm I was walking out of the office with it completely fixed--that's how quickly they were able to fit me in and treat me. Overall a great experience!" - Caroline C.
---
"Wonderful and friendly staff, a comfortable and safe orthodontic environment. I had my braces on for a little over 2 years, and love the way they look. The employees are amazing and extremely caring. Sam took off my braces and helped me at another couple of appointments. She especially was amazing, so kind and caring and made me feel in a secure place, even if the orthodontist is not always the most comfortable place for me. Technology was new, and the office was frequently sanitized and wiped, and helpful with COVID responsibility. A great place! I recommend it to all my friends and family." - Jill s.
---
"Dr. David Markowitz is a true rockstar in orthodontic care. He just completed my third child's braces treatment and we could not be more thrilled. Not only do his teeth look perfect, but Dr. Markowitz and his entire staff are also a pleasure to work with throughout the entire process. They help each child and family feel welcome at every visit, provide all the needed details post-visit, and make sure you schedule according to your child's orthodontic needs." - Amy S.
---
"I had always wanted to go back and get my bottom teeth fixed after I didn't wear my retainer in college but was very hesitant to get braces again as late 20s guy. I started with the Invisalign treatment with Dr Markowitz and was a little skeptical. I didn't think I needed top to be fixed, was concerned with the cost. But the office and staff went the extra mile to make me comfortable. The results and process were amazing, little to say I didn't know what was possible. I highly recommend this office for their professionalism and dedication to delivering the best results. I ended up with a better smile than even after my initial treatment with a different orthodontist 10 years ago and I really think that speaks volumes to the quality of work done at this office." - Del H.
---
"Dr. Markowitz and his staff at Blue Bell Orthodontics are top-notch! Both of my kids have had a wonderful experience and success at their office. The front desk staff are super-helpful, kind and accommodating whether scheduling appointments or answering questions. I highly recommend Blue Bell Orthodontics. Plus their office is easy to drive to and parking is plentiful!" - Nicolle K.
---
"The best experience ever! Dr. Markowitz and his staff are patient and amazing! I decided to fix my teeth after all of my children were finished with their braces! I'm so happy that my teeth are straight!" - Shari H
---
"Dr. Markowitz was referred to us by my daughter's dentist. We were impressed by the time he spent with us at our first consultation, and how he thoroughly answered our questions. Throughout the subsequent two years, both he and his office staff were very professional and helpful. Today is the gold ticket day and the braces are off. Many thanks!" - Anne G.
---
"All 3 of my kids have received treatment here for various issues, and all corrections have gone smoothly as scheduled. The office staff has been great too helping us to design a payment plan to cover the costs of 3! Would highly recommend!" - Nicki Bress
---
"When you think of professionalism Lower Merion Orthodontics sets the bar. The talent in that office is second to none. After 4 other orthodontists told me they could not help me David Markowitz and his incredible team delivered perfection for myself and my two children. If you are looking for that perfect smile you can stop looking and let Dr. Markowitz and his talented team get you all straightened out. Thank you all for such a great job. It changed my smile and my self esteem. I couldn't be happier. Thanks." - Scott R.
---
"I just got my braces off yesterday, and throughout the whole process, the staff here was very kind and supporting. Everyone there is caring and patient, and I appreciate you all for helping me make my mouth look much better !!! They do a great job being as safe as possible in terms of COVID, especially Dr. Markowitz. He even brought his son in to help out with the family business this summer! 10/10 would recommend." - Samson H
---
"My son just got his braces off! It's been a process that has lasted a little over two years. Throughout the entire time, Dr Markowitz and his staff have been professional, accommodating, knowledgeable, and a pleasure to visit each time. You can tell that they enjoy each other's company. The environment feels more like a fun salon than an antiseptic medical office. Now, the retainer phase begins!" - Gene B.