Elizabeth Soulas, DMD, MSE, MS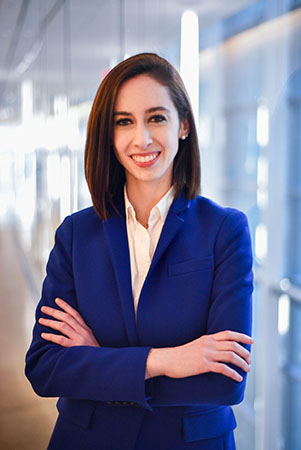 With a deeply rooted desire to make a positive impact, her journey to becoming an orthodontist began during her own experience wearing braces as a 6th grader. Inspired by the transformative power of orthodontic treatment, Dr. Soulas set her sights on a career that would allow her to provide others with the same sense of confidence and joy that she gained from her treatment.
Possessing an innate enthusiasm for her craft, Dr. Soulas considers herself incredibly fortunate to hold what she believes is the best job in the world – that of an orthodontist. On a daily basis, she finds immense fulfillment in witnessing the positive changes she brings to her patients' lives. Her dedication is palpable, as she relishes the opportunity to not only craft beautiful smiles but also build meaningful relationships with her patients and their families.
Her choice to venture into the oral healthcare field was driven by her desire to merge her affinity for mathematics and science with a profound commitment to service. Coming from an engineering background, she recognized dentistry and orthodontics as the perfect convergence of materials science and healthcare, providing her with an ideal platform to serve others in a truly impactful way.
Excellence in Education
Dr. Elizabeth Soulas earned her Doctor of Dental Medicine (DMD) degree and Master's of Science in Bioengineering (MSE) from the University of Pennsylvania, where her passion for dentistry and engineering converged. Her dedication to her field led her to the University of Michigan, where she achieved her Master's of Science in Orthodontics (MS). Prior to her specialized studies, Dr. Soulas completed her Honors Bachelor's of Science in Biomedical Engineering at the University of Delaware. This exceptional educational background has equipped her with a comprehensive foundation that she continues to build upon in service to her patients.
She is an engaged member of the American Association of Orthodontics, the American Dental Association, and the Pennsylvania Dental Association. Driven by her unyielding dedication to excellence, she recognizes that the world of orthodontics is constantly evolving, presenting new opportunities for advanced care. Her passion for continuous learning motivates her to stay at the forefront of her field, eagerly embracing the latest clinical techniques and innovations in order to provide unparalleled care to her patients.
Professional Memberships
American Dental Association
Pennsylvania Dental Association
American Association of Orthodontics
Outside the Office
Dr. Soulas was born and raised in Glen Mills, PA and is happy to return after a fulfilling three-year chapter in Ann Arbor, Michigan. She is the proud sister of a veterinary student and has a rescue cat named Storm.
When she's not crafting smiles, you'll find Dr. Soulas in the heart of the action, whether cheering for the Eagles (Go Birds!) or pursuing her passion for running. She also loves relaxing on the Jersey shore and spending time with family and friends.
A Focus on Community
She proudly serves as an orthodontist at the Lancaster Cleft Palate Clinic, a not-for-profit institution that holds a special place in her heart. With unwavering devotion, she offers her expertise to patients with craniofacial conditions, extending care that transcends mere treatment – it's a testament to her profound understanding of the emotional and physical journeys these patients undertake.