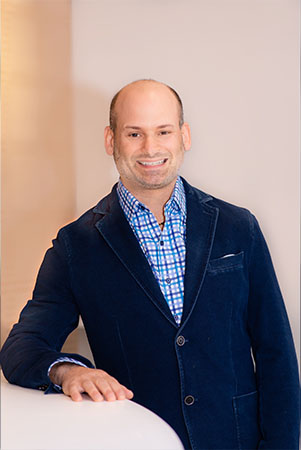 Dr. Markowitz is more than an orthodontist; he is a passionate advocate for his patients' satisfaction and happiness. With a heartwarming approach to his profession, the best part of his day is witnessing the sheer delight on his patients' faces when they see their transformed smiles, astonished by the positive changes achieved through their treatments.
A firm believer in building personal connections, Dr. Markowitz takes the time to know his patients on a deeper level. Beyond orthodontics, he learns about their families, interests, and aspirations. This unique aspect of orthodontics allows him to accompany his patients on their journey to adulthood, watching them grow and develop into confident, mature young adults.
Practicing orthodontics since 1998, Dr. Markowitz continues a proud family tradition as a second-generation dentist, inspired by his father, a respected graduate of Temple Dental School. Witnessing the profound impact his father had on his patients' lives confirmed dentistry as the perfect career path for him. Currently, his son Justin is following in his father's and grandfather's footsteps, as he is a student at Temple Dental School like his father and grandfather before him!
At Markowitz Orthodontics, you'll find an exceptional team led by Dr. Markowitz. Experienced, talented, and caring, they share the same mission: ensuring every patient feels comfortable and thrilled with their orthodontic treatment. With their fun-loving and gentle approach, the team creates a warm and inviting environment, making each visit a delightful experience.
Choosing Markowitz Orthodontics means being part of a legacy of excellence that spans over two decades. Dr. Markowitz and his team treat patients like family, going the extra mile to ensure complete satisfaction at every step of the journey. From convenient hours to flexible payment options, the practice aims to make orthodontic care accessible to all. Dr. Markowitz personally crafts customized treatment plans, tailoring each approach to meet the unique needs and aspirations of every patient.
Excellence in Education
Dr. Markowitz earned his Bachelor of Arts degree from the University of Pennsylvania. Driven by his passion for dentistry, he went on to achieve his Doctor of Dental Medicine (DMD) from Temple University School of Dentistry. Committed to honing his skills and expertise, he completed his Certificate in Orthodontics at Columbia University School of Dental and Oral Surgery. With this exceptional training, Dr. Markowitz is dedicated to providing top-notch orthodontic care, ensuring his patients achieve confident and radiant smiles.
Dr. Markowitz uses state-of-the-art technology and is up to date with the most current of orthodontic techniques. He is at the cutting edge of new technology in the field of orthodontics, in order to give his patients the most comfortable, efficient solutions to address their needs.
Professional Memberships
Montgomery-Bucks Dental Society
Pennsylvania Dental Association
American Dental Association
American Association of Orthodontists
Pennsylvania Association of Orthodontists
Philadelphia Orthodontic Society
Main Line Dental Society
Outside the Office
A proud native of Wynnewood, PA, Dr. Markowitz has called nearby Haverford, PA, home since 2008. He and his wife are blessed with three wonderful sons. They also have two Australian labradoodles named Rosie and Rubie.
When Dr. Markowitz is not hard at work, you can find him indulging in various passions. He has a green thumb and enjoys landscaping around his home, creating a beautiful oasis. Running keeps him energized and motivated, and in his downtime, he's teaching himself to play the drums. A die-hard Philadelphia sports fan, he loves discussing sports with his patients, making each visit all the more enjoyable. Summers are a special treat, as he and his family cherish weekends down the shore in Margate, NJ, creating wonderful memories together.
A Focus on Community
Beyond his dedication to orthodontics, Dr. Markowitz is deeply invested in his community and its people. He appreciates the opportunity to interact with his patients outside the office, spotting them in local restaurants, stores, sporting events, and even on vacations. Being an active part of the community is of utmost importance to him, as it allows him to forge meaningful connections with his patients beyond their orthodontic treatments.
Seeing the transformation of his patients brings immense satisfaction to Dr. Markowitz. Witnessing their growing confidence and self-assurance due to their newfound smiles fills him with joy. He takes great pride in being an integral part of their journey to greater self-esteem and happiness.
Dr. Markowitz offers an annual college scholarship to graduating patients who are high school seniors. These scholarships directly contribute to easing the burden of college expenses, fostering a smoother transition into higher education for the scholarship recipients and their families. This dedication to giving back to the community exemplifies his commitment to helping his patients achieve their goals beyond their orthodontic treatment.